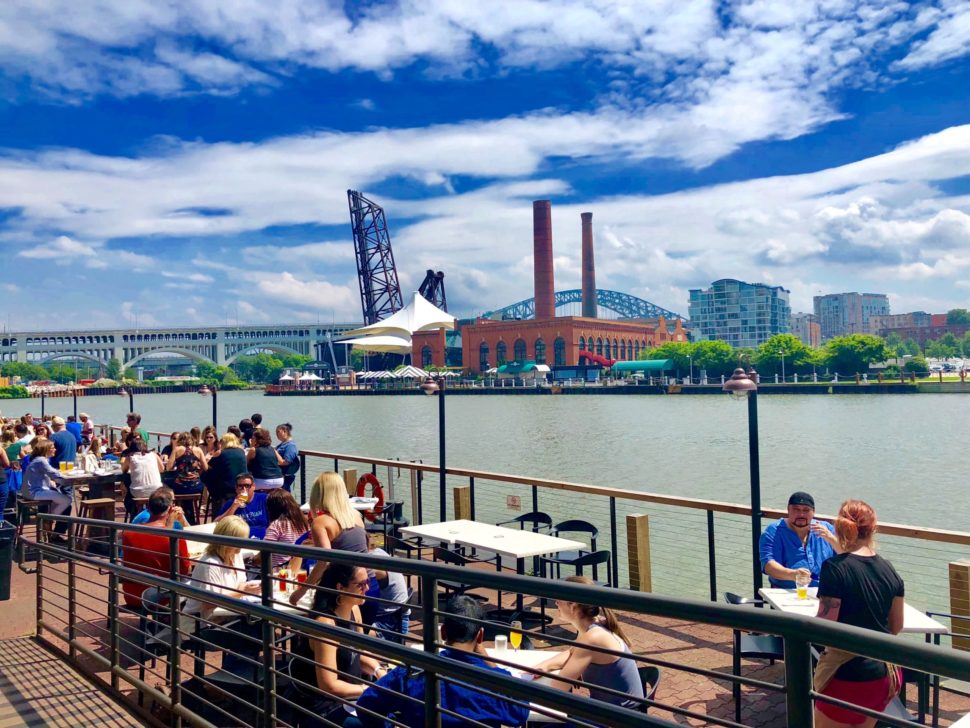 Cleveland's Best Patios for 2020
It's finally summer in The Land and ya'll know what that means; soaking up all that much needed sun – preferably with a cold drink in hand – and hitting all the outdoor spots this poppin' city has to offer. You guessed it, folks… I'm talking PATIOS. We've gotten a few suggestions and requests from our BlazeBite wing review followers for some summer bar and restaurant reviews and we're taking up the challenge to give you all the scoop on Cleveland's best outdoor patio spots for this summer. From the Flats, to Tremont, to the heart of downtown, and most everywhere in between, your wanderlust for patios is ready to be fulfilled.
We will be adding a patio destination to this post weekly, so stay tuned ya'll – you won't want to miss out!
Yours truly,
Kelly from BlazeBite
June 6, 2018
Collision Bend Brewing Company
1250 Old River Rd, Cleveland, Ohio 44113
Highlights
Drink: High Rent Lemon Girl
Menu: Salami and Green Olive Pizza
What Hooked Me: Boats and…….beers. There's nothing quite like drinking a cold beer next to the water, amiright.
This was our first stop!
Located on the East Bank of the Flats, overlooking the Cuyahoga River, Collision Bend Brewing Company (CBBC) is a perfect summertime spot for beerlovers. This artisanal brewery is quickly becoming a popular site for Cleveland locals, as are their crisp and on-site brewed beers. CBBC offers an expertly designed menu of Southern Californian inspired dishes and wood-oven pizzas that pair perfectly with over a dozen Collision Bend brews. Top this winning menu off with their sweeping waterfront patio and you may end up with a sunburn and a buzz. Collision Bend's patio serves a panoramic view of the Cuyahoga River and surrounding Flats District where you'll be sure to see some massive iron-ore freighters float past. So, plan to spend some time when visiting Collision Bend, because there's nothing quite like sunshine, beers, and boats.
June 13, 2020 Barrio, Temont
806 Literary Rd, Cleveland, OH 44113

Highlights
Drink: Blood Orange Margarita (Pro Tip: Always get on the rocks, ask any bartender. You're welcome)Menu: Queso EloteWhat Hooked Me: The queso, ya'll. The QUESO.
Being their first ever location, Tremont's Barrio is a must visit. This local taco gold mine not only gives guests the option of creating their own tacos from a list of 30 plus items but has a vast array of tequila, whiskey, and beer. Barrio's unique and casual atmosphere presents guests with a truly one of a kind experience with their exuberant staff, hand painted walls, and a kitchen that is open until 2 AM. But what really called us to Tremont's Barrio location was the patio. Equipped with an outdoor fireplace, this space offers a perfect perch for some sidewalk dining. Whether it's taco Tuesday or you're just a fellow taco enthusiast looking to get a side of sun with your salsa, Barrio's patio at Tremont is the place to be.
June 19, 2018 The Cove
111 River St., Leland, MI 49654

This particular weekend we strayed a little from the Cleveland map to bring you this special edition from 'the state up north', Michigan. Although it's a bit of a drive, this stunning fishtown patio is well worth at least a mention. Check it out!

Highlights
Drink: Chubby MaryMenu: Fried Perch DinnerWhat Hooked Me: The stunning view… and everything else about this little fishtown – it's a Hallmark movie waiting to happen
The Cove, located in the historic town of Leland, Michigan, offered quite honestly one of the more beautiful sites of this weekend getaway. Decked with vintage boat decor and pine paneled walls, this local gem embodies Pure Michigan with a patio that sits above the Leland dam overlooking Lake Michigan displaying true waterfront dining. But what's waterfront dining without some fresh fish? So, of course, The Cove hosts a specialized menu blossoming with fresh Lake Michigan whitefish and other seafood options along with a wine list of local Leelanau County wines. Pair a plate of fresh fried perch with a glass of signature cherry wine and you'll be set to enjoy a dazzling lakeside sunset atop the upper patio deck. So, if you ever find yourself exploring Michigan and are in the mood to feel like you're starring in a romance novel set in an authentic fishtown, be sure to stop in at The Cove.
June 24, 2020 Burntwood Tavern, Brecksville
8188 Brecksville Rd, Brecksville, Ohio 44141

Highlights
Drink: Pear of CucsMenu: Blackened Shrimp TacosWhat Hooked Me: Live music to accompany a bangin' happy hour
Located on route 21, in the heart of this quaint little town, Brecksville's Burntwood Tavern offers a lively atmosphere, straightforward and fresh menu options, and a unique layout that is sure to please. Set in the historic Old Spanish Tavern, Brecksville's Burntwood displays a rustic elegance exhibiting a welcoming walk-in fireplace, copper top bar, hand carved wooden beams, and an array of hand-blown glass fixtures that are sure to set the mood. But nothing quite sets that sought after summertime vibe better than the recently added patio adjacent to the bar area. Rain or shine, this Burntwood Tavern's covered patio is the place to be whether you're looking for a quiet afternoon aperitif or a late night cocktail to jam with to the featured live band.
August 3, 2020 Punch Bowl Social
1086 W 11th St., Cleveland , Ohio 44113

Highlights
Drink: Pillow TalkMenu: Honestly, the entire Brunch menuWhat Hooked Me: It's an adult playground with booze…enough said.
Okay, so it's not a "patio" per se, but Punch Bowl Social's rooftop bar is worth the mention. Not only is it the third level of this colossal bar, but Punch Bowl's rooftop offers a slight get away from the noise and games that ensue inside. Equipped with a full bar, couches, and a bird's eye view of the surrounding locations, this outdoor section transitions seamlessly from the calm of day to the heat of a summertime night. Whether you are looking to finish your mimosas from brunch with a bit of sunshine or finish your last call cocktail under the stars, Punch Bowl Social's rooftop has you covered.
August 12, 2020 Flying Monkey
819 Jefferson Ave. Cleveland, OH 44113
Highlights
Drink: Solid draft list ya'llWhat Hooked Me: DOG FRIENDLY. That's all I really have to say about that.
One of Tremont's favorite pubs, the Flying Monkey offers up that hometown feel the city often forgets about. With both indoor and outdoor bars, you'll have the option to stay inside with the usual bustling crowd or stray outdoors to the enclosed and cozy patio space, which may I add, is dog friendly! But, whichever way the beer stears you, you will instantly feel at home like one of the regulars which, depending on the day, may get you up and singing some karaoke. So, next time you're looking for a comfy spot to grab a few casual brews, bring some friends and the cutest puppy you can find, and hit up the Flying Monkey.
August 19, 2020 The Treehouse
820 College Ave. Cleveland OH 44113
Highlights
Menu: The 'ZA. Woodfire grill is on point!What Hooked Me: TV's on the patio! Inside or out, you'll never miss a hit or catch.
Plan to plant your roots for some good times when coming to The Treehouse. This unique and truly one of a kind bar located in the heart of Tremont will keep you parched for something cold all year round. The Treehouse, staying quite true to its name, displays a massive tree bursting through the bar, setting an unparalleled ambiance that is sure to make you want to spend some sweet time. This being said, if your heart so starts to desire the real rustle of the leaves, the patio is your spot. Treehouse's patio is a beautiful garden of greenery perfect for soaking up some sun. But don't let this fool you, because nestled in the vines, you'll find some flatscreens so you'll be sure to maintain that baseball buzz. The pub also features live music every Sunday evening so if you're ever feeling those infamous 'Sunday Scaries', make sure to stop in, because as you'll find, it's always a "lovely day for a Guinness"!
August 25, 2020 Whiskey Island Still and Eatery
2800 Whiskey Island. Cleveland, Ohio 44102

Highlights
Drink: Asked for a whiteclaw and was greeted with a tall boy. They like to party!What Hooked Me: The live music. Bring your dancing shoes, you'll want them.
They don't call it "whiskey" island for nothing, folks! This marina is made for fun, dancing, and of course, a little bit of drinking. Visit on the weekend and their spacious patio paired with a stage for live bands is perfect for letting loose and busting out your best worst dance moves. And don't fret because the outdoor bar allows for quick access to all the liquid courage you'll need so make sure you come with your dancing shoes. But, need be, you can always sneak away from the party and inside to the restaurant area where you will find a few tables, a friendly and attentive staff, and some flat screens to catch up on the games. Whiskey Island truly has something for everyone and is one of Cleveland's finest hidden gems. So the next time you're feeling a little frisky, put on those boogie shoes and head to the island.
September 10, 2020 The Courtyard Cafe
7600 Chippewa Road • Brecksville, OH 44141

Highlights
Menu: French Onion Soup. I got it when it was 90 degrees out…it's that good.What Hooked Me: The atmosphere, you will feel like family.
One of Brecksville's long time staples, The Courtyard Cafe is a must visit. This quaint cafe, nestled in the corner of one of the town's main strips, is quite like a home away from home for the locals. With walls lined with vintage photos of Brecksville alumni, Cleveland Indians and Browns memorabilia, and a vast array of other old time photos and trinkets to keep your eye wandering, The Courtyard brings to you a feeling of home right as you walk in. Here, everybody knows everyone, and if you don't, you soon will because you will without a doubt be back for the quality homestyle taste from their kitchen. And just like any good kitchen at home, The Courtyard has become quite the gathering place for the crowds. But, with their outdoor patio, an escape from the hustle and bustle is just a few steps away. The Courtyard's patio is nothing short of perhaps your own patio at home, strewn with lights and nestled in a quiet corner. Here you can relax, eat, and truly enjoy the authenticity of this family restaurant.
Oh, and on your way out, don't forget to sneak a peep at the candy jar for a sweet goodbye.