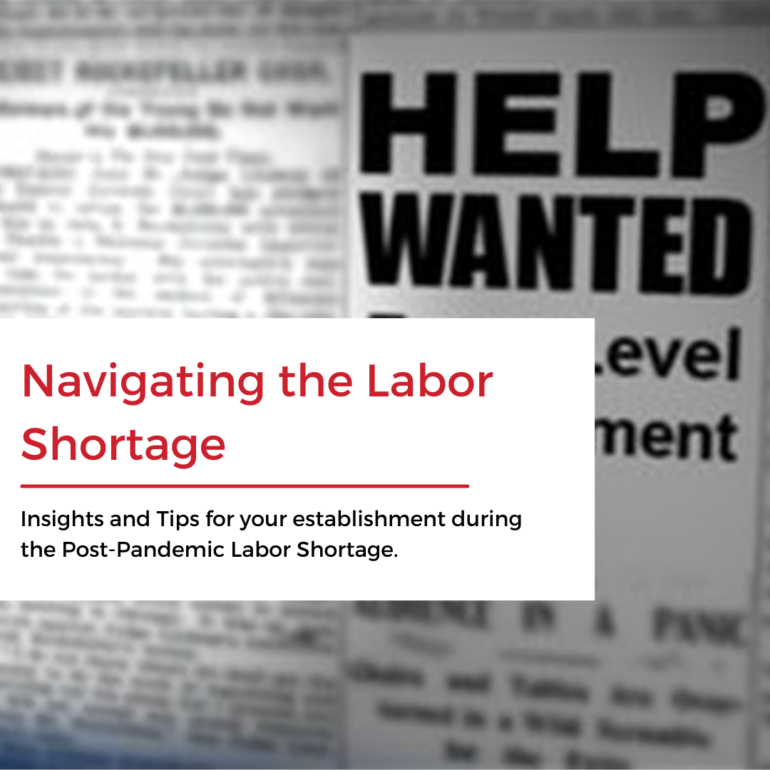 Navigating the Labor Shortage
Labor shortages across the restaurant, hospitality, and entertainment industries have long been a major point of concern. But now, more than ever, industries are facing the extremes. Finding and retaining solid and loyal employees seems to be harder than ever in our post-Pandemic atmosphere. Struggling business owners are facing more difficulties even as the Pandemic comes to an end.
The labor shortage is affecting the restaurant industry, and industries where food service is a mainstay, the most. Last year, serving jobs were down 75%. The vast layoffs and closures restaurants and venues faced caused a drastic shift in employment opportunities.
Now, as businesses start to reopen to full capacity, finding employees seems to be harder than ever. Already crippled businesses are once again having to find solutions, mostly at the expense of success.
But, our team at BlazeBite has put together a guide that can help navigate through and beyond the labor shortage. This guide can help keep your business running.
We will cover insights into what can happen if the shortage is not successfully combated, and of course ways to win against the crisis.
What Can Happen In Your Establishment?
After the Pandemic, the restaurant, hospitality, and entertainment industries are all at a new hurdle: a crippling labor shortage. Business owners are scrambling to find employees willing to work and it is causing serious concern in more ways than one.
Let's look.
1. Competition for Something Better
One obvious concern is the fact of surmounting opportunities for employees. While this is great news for people seeking jobs, business owners must find new and differentiating incentives to lure job seekers. This means competitive pay, employee benefits, and importantly, a safe work environment. If your business doesn't keep up with current demands of the enlightened workforce, finding employees will continue to be a burden far beyond the current shortage.
2. Less Staff, More Wait
If your establishment has returned to full capacity while being short handed, there is bound to be increased wait times for customers in most aspects of their experience. Whether you are short staffed in the kitchen or on the floor, lack of employees can create havoc and bad experiences.
3. Profit Margins
The labor shortage can even cause your profit margins to shrink if not managed correctly. Less staff to continue to move tables means less tickets per night and less revenue to keep your operational budget strong. This coupled with rising minimum wage can greatly affect business decisions. Staying on top of changing pay trends is important for the future.
How to Overcome a Labor Shortage
Although the current labor shortage can seem endless, there are solutions that every business owner can do immediately to combat the current situation. From tips and insights from your current employees to new technology, business owners can easily implement these strategies.
Let's look.
Take care of your current employees!
Your priority during this time is to take care of your current employees. They are aware of the competition in the job market and need to be ensured that their place at your business is appreciated and needed. From employee benefits and vacation time to free meals at break, there are endless ways to make your employees feel appreciated.
Insights from employees, both current and leaving
There is no better source of information about your operations than the employees that run your day to day. Setting up exit interviews with employees can give the good, the bad, and the ugly of your establishment. This type of feedback can be crucial to improving conditions and operations.
As for your current employees, they're feedback is also important. Making one on one meetings with staff members can not only make your employees feel like crucial part of the business but also provide feedback and suggestions for business.
Spread the word
Other than the obvious social media platforms, there are other creative ways to spread the word about job openings.
Reaching out to local community groups is one way to spread the word and look for local people to support local business.
Employee referral programs are also a unique way to get resumes. This not only motivates current employees, but can also bring new and trustworthy talent to your business with ease.
Take Advantage of Technology
Technology, like BlazeBite, where customers can order and pay on their own time, can significantly increase efficiency in your establishment. Mobile ordering apps such as this streamlines the ordering process, freeing up staff to focus on customer service and efficiency.
Not only does this improve operations, but will make for happy customers.
Easy Fixes Can Make the Difference!
Yes, the current labor shortage can seem daunting, but with a good plan in place and new and improved operations, your establishment can thrive.
If you are a business owner and would like to learn more about the solutions BlazeBite can offer your establishment, CONTACT US today.